Penney's
"aka Gibraltar P-1405"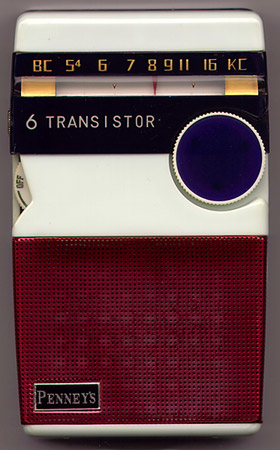 Here's another fabulous early Toshiba shirt pocket set from 1958 that was marketed by J.C. Penney Company Inc. under the Penney's brand name. In fact, this is mere speculation, but I think this could be the first Toshiba transistor radio that was marketed as a Penney's. There is no model number to be found anywhere on the radio, and it appears that the radio was built to outright hide the Toshiba name. (More on this later.)

This Penney's shares much in common with the early 6TP-219 (Gibraltar P-1365), and it so happens that it was also marketed by Gibraltar under the model number P-1405. It employs the same hard plastic as the 6TP-219 (P-1365) and uses the same ice blue for the cabinet front, dark blue reverse plastic around the tuning dial, dark blue tuning knob, and dark blue back cover. The design distinguishes itself from the 6TP-219 by employing a red anodized metal (aluminum?) speaker grille as well as a convex shape to the clear plastic along the slide rule dial that adds a pleasant 3-D feel to the dial area.

* Sorry I cheated and used an old scan for this model. An ugly way to handle such a beautiful radio. I will shoot some photos eventually and replace the image above.
70 x 114 x 33 mm (2-3/4" x 4-1/2" x 1-1/4")