Toshiba 6TR-186
"Horizontal Lace"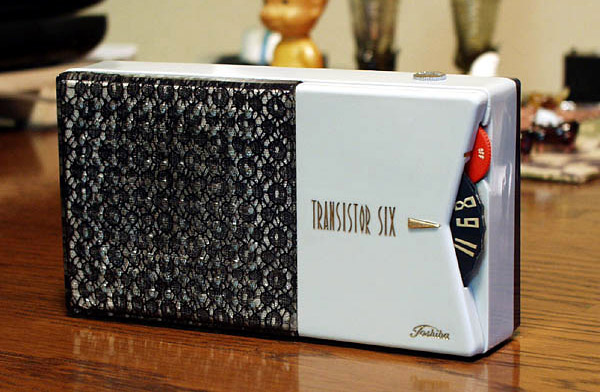 When the sun goes down and the kids are all tucked in, it's time for black lace and adult pursuits. Not only is the 6TR-186 "Horizontal Lace" one of the earliest Toshiba transistor radios, but its overall design and balance make it arguably the most beautiful. What it lacks of the "novelty" or toy-like qualities found in many Toshiba radios, it makes up for with its high-quality hard plastic cabinet and exotic charm. The finer pattern and seductive black colour of the lace works much better for me than the white lace on the TR-193.

The contour of the cabinet at the right end combines with the overlapping volume and tuning dials to highlight the controls and give the radio a less square appearance. Better yet, the funky numbering on the dark blue tuning dial and the overall color scheme of grey, dark blue, black, and a flash of red really makes this radio special. The 6TR-186 appears in a magazine ad that must have been submitted for publication by December 1957, and the unit pictured appears to have been built shortly after this date.

[03.02.26] Update: A few months back I acquired an internal Toshiba bulletin dated December 25, 1957 that announced the model to dealers.
150 x 80 x 40 mm (5-7/8" x 3-1/8" x 1-5/8")