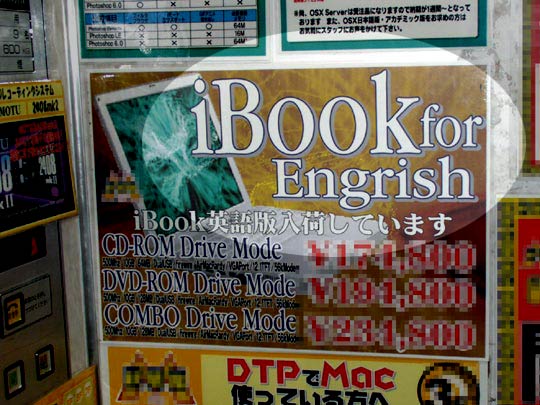 This photo was taken inside the elevator of a popular Mac shop in Akihabara.
Mosaics added to protect the shop's name – and protect myself from incurring the shop's wrath were I to leave their name visible.
What's the sign mean? Well, the shop intends to advertise the arrival of (direct-import) English version iBooks.
In other words, folks can buy an iBook with the English-version OS & keyboard, (as opposed to the horrendous JIS keyboard).
Thanks to my good buddy Frank Baldessari for playing cameraman on this one. Cruising the scene together that day, I was caught unprepared. But Frank, as always, had his trusty C-2500L in his bag.